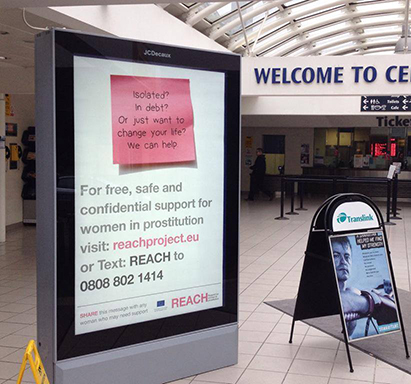 Last week many sex workers learnt for the first time of REACH, what appeared to be a new support organisation for sex workers in Ireland. REACH isn't actually new, but it only came to mass attention last week when it launched a new high profile all island advertising campaign.
I first heard of REACH a year ago. I wrote to the EU in March 2014 requesting information about the project. However the EU replied that they had no record of REACH. Last month I wrote to the EU again, asking them to check their records once more, and today I received a reply confirming that they did award the REACH project a grant of €284.302 in November 2013. The EU say the REACH project began in December 2013 and is set to last 2 years. The beneficiaries are the Irish Department of Justice and Equality and Ruhama. Associate partners are the Northern Irish Department of Justice and the Irish Health Service Executive and Child and Family Support Agency.
I've spoken to a number of sex workers about REACH since the REACH advertising campaign launched.
One sex worker told me she contacted REACH seeking assistance last week by email. Yesterday she got a reply by email stating that she'd need to telephone instead. Another sex worker who contacted REACH last week told me she did get a swifter response. She'd asked for help re housing, problems she was having with her landlord. However the response she got offered no help, just a suggestion that she contact a housing charity instead. Another sex worker who asked about safety support got a response suggesting she visit the REACH or Ruhama websites, and, very surprisingly to me, it was also suggested she visit UglyMugs.ie. I've never before had a sex worker tell me Ruhama has recommended UglyMugs.ie to her, but that is what she reported to me. A further sex worker told me she was just advised to read the REACH and Ruhama websites for advice.
The above four sex workers all contacted REACH in the Republic of Ireland. Sex workers in Northern Ireland told me that it was actually impossible to contact REACH in Northern Ireland, both the phone number and email address did not work. I checked the phone number myself and asked others to check it too and can confirm texting REACH to 0808 802 1414 does not work, this phone number is set up to reject all SMS messages.
So what is REACH? It doesn't appear to be able to offer any support to sex workers North or South. It seems it is just yet more public money into the coffers of anti sex work campaigners. I expect most of the €284.302 is going to Ireland's greediest anti sex work organisation of them all, Ruhama.